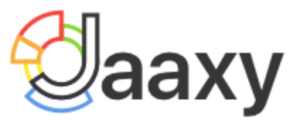 Product name: Jaaxy
Website: www.jaaxy.com
Cost: $0 Jaaxy Starter / $19 per month Jaaxy Pro /
$49 per month Jaaxy Enterprise
Owner: Kyle
Overall score: 9 / 10
Introduction
Jaaxy is the most trusted keyword tool for SEO. Finding quality keywords for your website is extremely important in order to get great rankings these days, as you can find out to what extent people are searching for these keywords and also how much competition is out there.
You want low competition, high traffic keywords – and I believe Jaaxy is where you have the best shot at finding them.
Pros and Cons
Pros
Jaaxy will show the most relevant quality keywords related to your search
The only keyword tool to pull real-time data from all the search engines (Google, Bing, etc)
The most accurate keyword result of all its competitors
There is great support, including training videos
Jaaxy is cloud based, meaning you can use it from any computer or tablet with Internet access. No software download necessary
It will demonstrate your keyword's true competition, how many monthly searches, and how much traffic each keyword has
You can earn $$$ by becoming an affiliate of Jaaxy
Different membership levels to suit your need
Cons
As Jaaxy Starter only gives you 30 FREE searches, you can find yourself "needing" to upgrade relatively soon
No "live" support, although, you will get responses to your queries in a maximum of 24 hours (which isn't bad)
Jaaxy – Product Overview
Rather than going into great details on each feature within the Jaaxy Keyword Tool, I'll leave you with the below image to demonstrate. As you can see, you can access the monthly searches, keyword quality indicator, SEO Power and QSR (Quoted Search Result / True Competition), all within the same search table.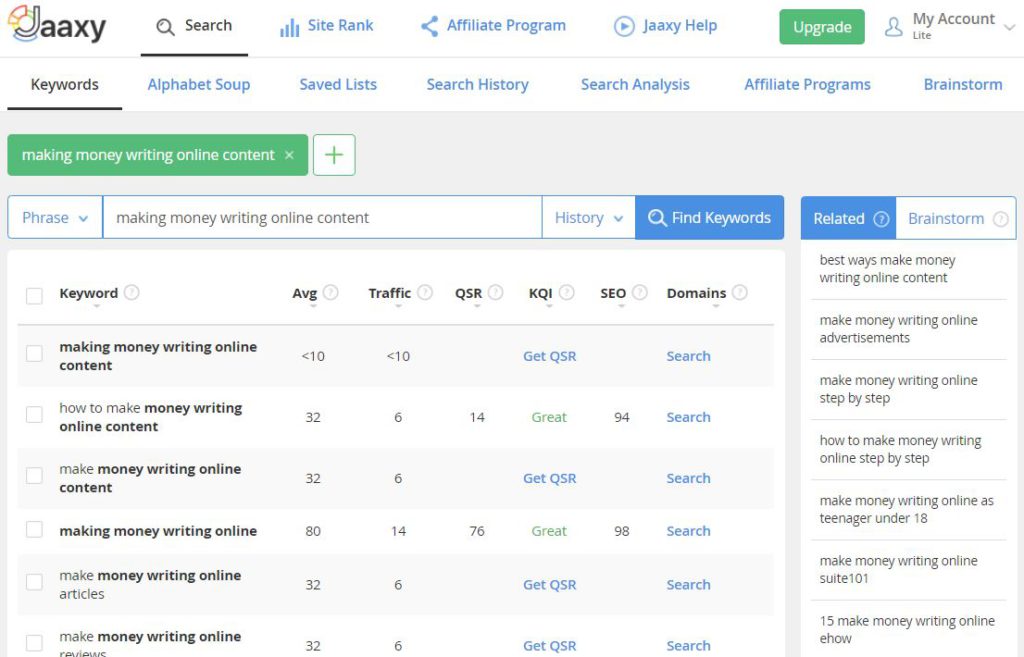 Other features in the tool include Site Rank and Website SERPS. The Site Rank lets you check the rankings for your keyword, as well as what page you feature in Google with that particular keyword (or keyword phrase). The Website SERPS (Search Engine Results Pages) provides data on your website's title, meta description and so forth.
Who is it for?
If you are serious about being successful in online business, then this tool is for you. It WILL better your chances of getting more traffic to your website(s) as you have the best chance of finding quality keywords.
Jaaxy training and Support
There are tutorials and training videos available via the website. Additionally, you can contact the owners and they will get back to you within 24 hours.
Price
Jaaxy has 3 membership levels:
Jaaxy Starter: FREE! $0. Please note, though, that you will have limited searches with this option.
Jaaxy Pro: $19 per month / or $199 per year
Jaaxy Enterprise: $49 per month / or $499 per year
The below chart simply demonstrates the differences on these membership levels: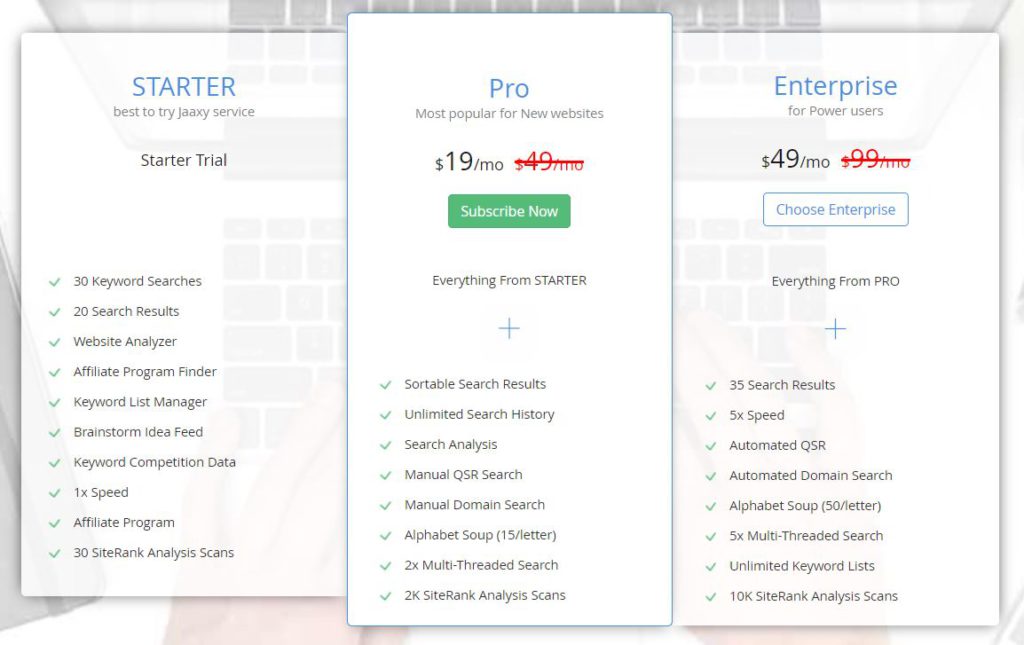 Summary
Jaaxy is definitely not a scam – it's in my opinion the absolute best keyword tool in the market place. I certainly use it every day, and it helps me get the high rankings I need in Google.
Do you have any experience in using Jaxxy? Or any other keyword tool? I'd love to hear it, just leave a comment here.
And if you haven't tried it before, please do take the opportunity to check out Jaaxy here: