Gone are the days when you had to pay big bucks to a web designer to get your website up and running. I mean absolutely no disrespect to the many brilliant web designers out there, and I am merely pointing out that it is now very easy to build a website by yourself.
Our website is installed on WordPress and we didn't have to pay anything for it.
…well, if I backtrack a little, we did pay US$ 10.87 for our domain – worktobefree.com. We chose to get one on NameCheap.com, but I will soon tell you how you can get 2 websites totally free of charge.
First, please check out our DIY guide to creating a website using WordPress.
1)    Web Hosting
I recommend that you use a web hosting company that is proactive and offers great support. BlueHost and GoDaddy are two well-known and reliable suppliers.
I haven't personally used them, so I am telling you what I have heard from others and what research shows. You do have to pay a fee to use the above.
We use web hosting via our Wealthy Affiliate membership. This costs us NOTHING and they provide easy step by step guides should you get stuck. Plus, there is tons of support by the other members, too. WA will offer you a minimum of 2 websites at NO COST, and these are on the WordPress software.
It is worth noting that WordPress is the world's most widely used website framework.
2)    Set up Website
It's really easy and quick to set up your website within WA. You have the option to do an 'Instant' website setup (no domain required), or create the website using your own domain. There is really not much more to say on this point; just a few clicks and you have your own fully functional website! …at no cost.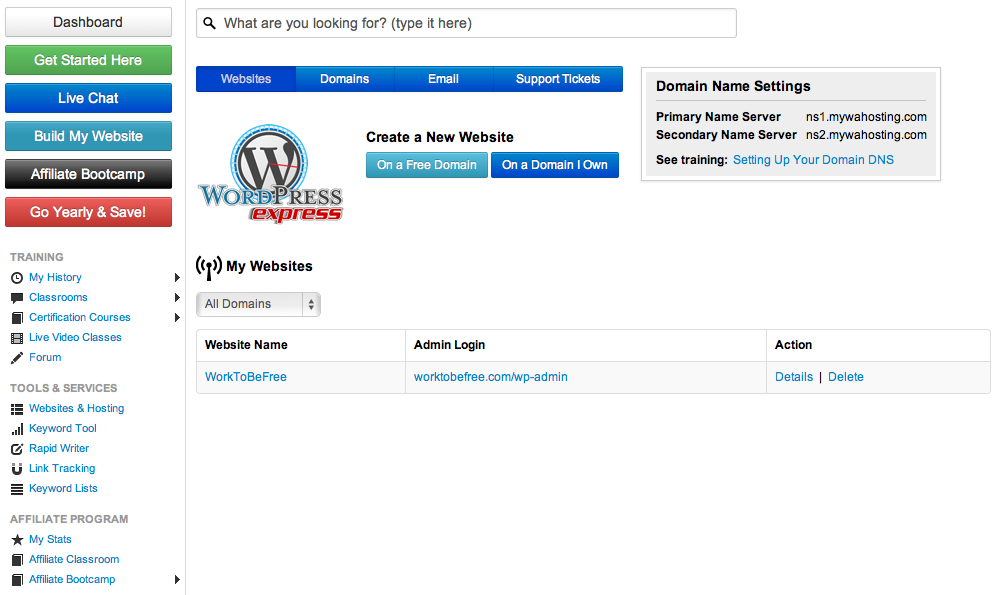 3)    Upload a WordPress Template
There are loads of really nice WordPress themes to choose for your website. Have a browse, and simply upload it to the wp-content/themes/folder, and 'activate'.
Our website, the one you are on right now, is made using the 'Retina' theme. Below is a quick snapshot of a few other ones.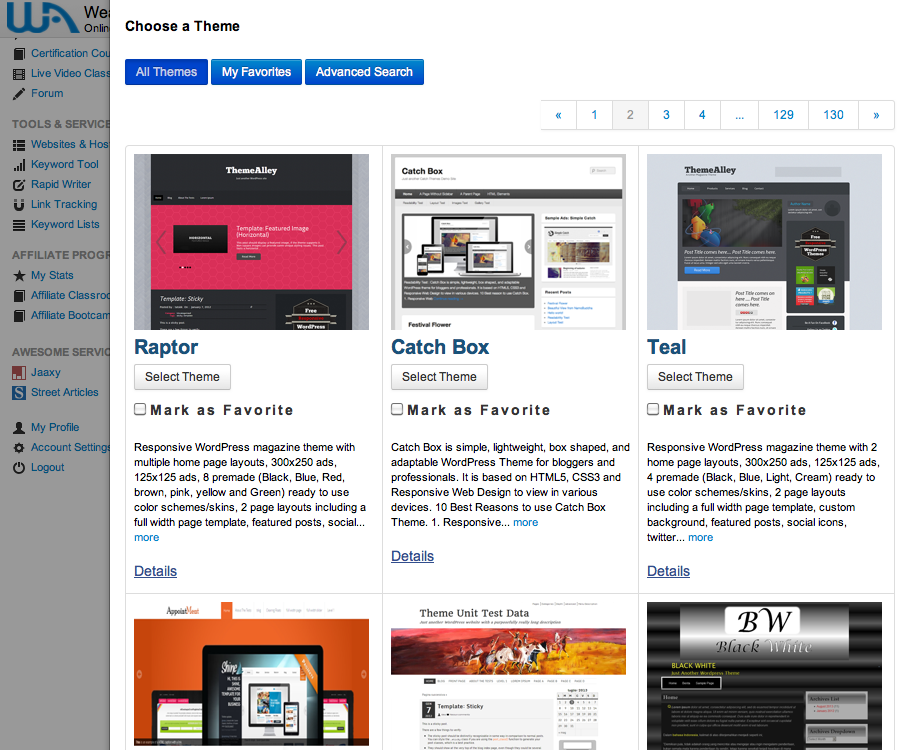 4)    Set up Plug-ins
WordPress plug-ins add functionality to your site. There are many to choose from, but make it simple and get started with these ones:
All in One SEO Pack – for optimizing your posts and pages
Exclude Pages from Navigation (simply activate)
SI CAPTHCHA Anti-Spam
And that's it. You can now update and create new content to your website whenever you want.
If you want to learn more about how to get your 2 FREE websites on Wealthy Affiliate, simply go to their website and sign up as a starter member. This is at absolutely no cost. This link takes you straight there.
Alternatively, check out this video:

WATCH VIDEO: How to Create a Website in Under 30 Seconds.
Need help with your WordPress website? Please leave a question or comment below, or visit our WA profile: https://my.wealthyaffiliate.com/karina-b
We'd love to hear from you!
Cheers
Karina