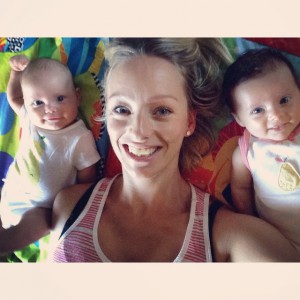 **Repost from 2015** I am currently on maternity leave with my 4 month old twin girls. Being a Norwegian living in Australia, I can at times find it very hard to swallow that I'm not receiving the same great income benefits as my childhood friends back in Norway while on leave with my babies. Luckily I have found a great way to make money while on maternity leave – doing affiliate marketing.
I currently own and manage two sites including this one, and my latest site www.twinsformation.com was only created after the birth of my twin girls. I must admit I find it easier to write content on my twins related site that this one (yes, I am blatantly honest), however, receiving those monthly checks from the affiliate programs I take part in on this site gives me a great sense of achievement. Not to mention they help pay bills that unfortunately don't stop while I am in this sleep deprived existence with my baby girls.
Affiliate Marketing
When I first set out to research legitimate ways to make money online, I had never even heard of affiliate marketing. To my readers who are in the same boat, it's basically a way in which a company will pay the affiliate a commission for referring visitors to their site and/or to buy their products/services. A better, yet still simple, explanation is given in this short video:
How to make money online – The process explained
I feel very fortunately to have come across Wealthy Affiliate in the process of finding ways to earn money and work from home. You can read my full review of the program here, but in essence I thank this site (and community) for teaching me everything I know about online business today and for showing me that I can make money off any website I create. It has proved not to be brain surgery and a layman like myself is now proud to say that I make money online. 🙂

Becoming part of Wealthy Affiliate is totally free, and the beauty of it is that you will learn to earn money of your passion and interest. By no means do you need to promote them (I just choose to), and it's this honest and genuine educational space that most attracted me to the site. Want to blog about your fashion interests? Why not learn how to make money from your website at the same time 🙂 The same goes for any other niche, fashion was just an example. If anything, it won't hurt taking a look at what I'm referring to right? 🙂
I'd love to hear from anyone else making the extra money while on maternity leave, and how you do it. Please feel free to comment below.
Have a great day!
Cheers,
Karina