Product Name: Global Affiliate Zone (GAZ)
Website: globalaffiliatezone.com
Cost: $99 on a monthly basis plus an additional cost for an upsell
Overall Score: 3/10
What Is Global Affiliate Zone (GAZ)?
GAZ Global Affiliate Zone – Scam Alert or Legit? I've deep dived right in, and this is my review. Founded in 2016, the Global Affiliate Zone program has managed to garner over 4000 members. Initially based out of Las Vegas, Nevada, the owners claim that they offer the best coaching and resources for anyone looking to make it online. The owners, Julian Sherman and Mathieu Jang, especially offer training that, according to them, would be beneficial in affiliate marketing.
Essentially, the Global Affiliate Zone (GAZ) is a network marketing company which basically focuses on affiliate marketing. However, they provide their own products and services which you are required to promote to earn money.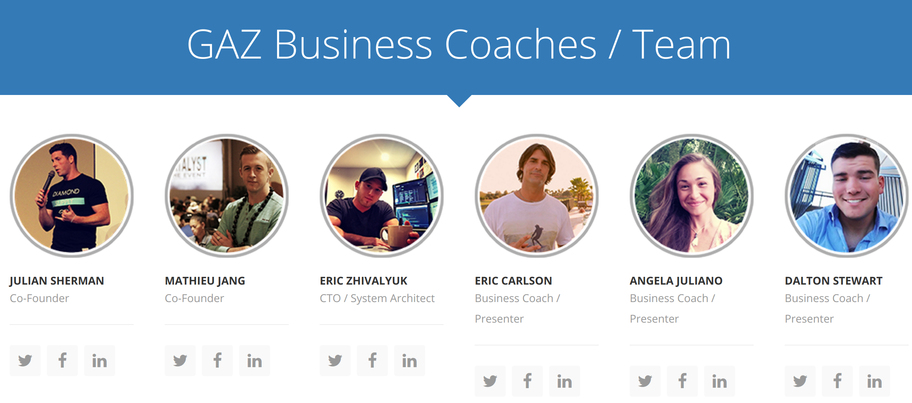 How Does It Work?
Once you've paid and accessed their membership, you are provided with in-depth training and coaching. Notably, their training primarily focuses on how to sell their own affiliate products. Hence, you are required to promote their products through affiliate links, as well as to promote their program.
Below is one of the YouTube promo videos by their owner – it all sounds very legit and enticing; all I ask is that you read on to learn the red flags about this program, and the incredibly expensive upsells required to actually earn any money.
Pros
•    Has a 14- day money back guarantee: This allows you to get your money back if you are unhappy with their services
•    Support appears to be OK
Cons
•    Very expensive
•    Their coaches/agents are only sales people in disguise (not that there's anything wrong with being a Sales Rep; it's the lack of transparency on the matter that's unprofessional and annoying)
•    The system offers limited options for payout to their members
•    They provide very little information to non- members on their website
•    The training and coaching they offer is geared to having you sell their products and memberships
•    The information they provide to their members on affiliate and online marketing is basic. An individual is very unlikely to be taught how to build a website and increase traffic.
•    In my opinion, they won't be around for long: This system is very similar to programs such as MOBE and Digital Altitude. These programs tried to combine MLM and Affiliate Marketing into their system. Yet, they were later shut down by FTC.
Training and Tools
Global Affiliate Zone (GAZ) offers a good number of tools for their members. After the training they provide and following their instructions, you can start earning money. Below are a few of the tools that they offer:
•    Custom Landing Page builder
•    Training on online marketing
•    Email Swipes
•    Ready Made Ad copy
Support
Their support system is actually quite good. They provide an email address and a number to contact them. Additionally, they also provide their members with the option for live webinars which can be extremely interactive and helpful. Notably, these webinars take place on a weekly basis, on Tuesdays and Wednesdays.
They also hold events and meetups which allow members to get support personally with others.
Price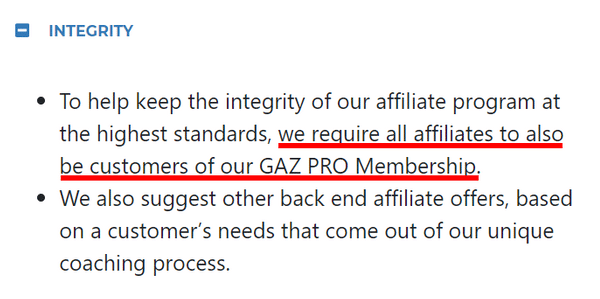 To join, you will have to part with $99. However, even after attaining membership, you'll have to pay $99 per month to maintain membership. That's very expensive, and there are muck better options out there.
You will also have to part with more money due to their upsells. A LOT more money! Their upsells are affiliated to a company known as Enagic. To earn a commission, you will first have to purchase the Enagic water filters that go for $5K. Yes, that's right. No commisions unless you're paying for the products yourself first. RED FLAG!!
Is Global Affiliate Zone A Scam?
Hmm….Technically, I wouldn't classify GAZ as a scam, since they do offer support and some sort of value. However, they are not just an affiliate program (which they claim)l they are a MLM program and it's the owners and the people on top that benefits and earns the big dollars. It is near impossible to make a living from this program. There is lack of transparency, and I DO NOT recommend it to anyone looking to learn how to make money online.
.
A Better Way To Learn Affiliate Marketing
If you want to learn affiliate marketing and have your best chance of making money online, then I feel like it's my obligation to tell you about my #1 recommendation; It's the place where I've learnt everything I know about affiliate marketing and monitizing a website. This very website is 100% a result of my efforts learned at Wealthy Affiliate.
The affiliate program they offer is world leading, with more than 1.4 million members to date. It's completely FREE to join, as any legit affiliate marketing program should be – feel free to read my in-debt review here (I wrote it more than 5 years ago when I first started out, but I will stand by it today as I did back then). I am not one to push a sale down anyone's throat, so all I ask is that you do some research before deciding on a program online that will give you the tools and training to be successful online. Feel free to have a quick read of how I got started too.
If you have any questions or thoughts regarding Global Affiliate Zone, or Wealthy Affiliate, or anything else, please do not hesitate to leave me a comment below. I'll most certainly get back to you
Have a super day!
cheers,
Karina