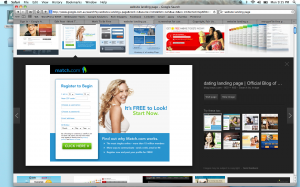 For many people or companies, when you create your website, you'll need to creatively design your website landing page. You probably don't need a one if you are writing a blog, however, for other websites, the first impression (aka 'the landing page') is crucial. Potential customers will quickly lose interest in your website if they are not interested in the first 8 seconds of landing on your page.

Landing page content
Getting traffic through your site can be hard enough, so when you do get traffic you don't want potential customers to have a disappointing first impression. Keep the information here relevant to your business. The primary reason for a landing page is to increase the interest within your visitors without information overload. Keep it clear, neat, organised and to the point. Direct your reader to your header and side bars, as that's where you will have all other important information. Remember; too much happening in one space at one time is not always a good thing – it can be confusing and make your readers leave the site.
Be Smartphone Compatible
This is very important. Please ensure your website is smartphone compatible. Most people search the web on their mobile devices and you don't want to miss out on this traffic – it's invaluable. Quite simply, people can have your business in their pocket at all times if you're mobile compatible. I can show you how to create a website in 30 seconds – please check it out here if you're interested.
Links
Go easy on external links on your landing page. Links can be invaluable throughout your site, however, external links on the landing page can distract people from your website right away when what you need is for them to keep the interest to keep reading.
Urgency
If your intent is for people to buy something off you on your website, or for them to be redirected to another site in which you can earn money…then I advise that you create a sense of urgency. This can be discount offers, "valid until…"-offers etc. Adding a sense of urgency tends to be very successful in making people take action.
If you have any feedback, or other great ideas on the subject – we'd love to hear from you. Please feel free to comment below.