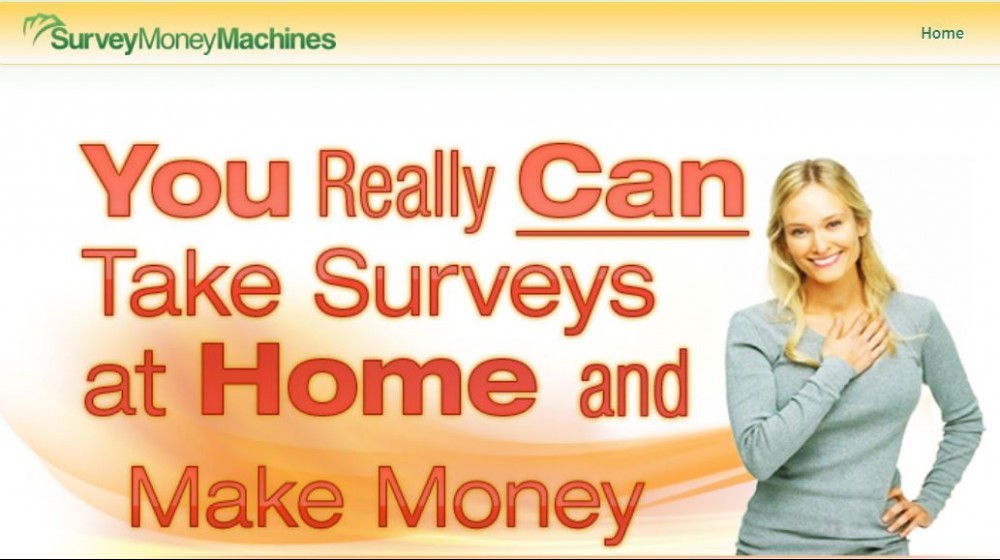 Product name: Survey Money Machines
Website: www.surveymoneymachines.com
Cost: Free
Overall score: 3/10 (NOT RECOMMENDED!)
Introduction
Here's my honest Survey Money Machines Review. Survey Money Machines is basically a platform that operates as a paid service portal. The platform was founded and launched in 2005 by owner Hailey Gates. Hailey Gates was a stay at home mum who claimed to be making lots of money from home by completing various surveys, and that's where the idea of her business came from. 
How Does It Work?
As a paid service portal, it connects its members to market research companies that need their survey completed. In other words, after signing up to the platform, you'll get access a list of survey sites, instead of getting direct access to paid surveys.
Once you can access the list of surveys, you'll also have to register to the sites. However, according to the owner, you will get connected to over two hundred companies. This is how Hailey (owner of the site) makes her commission; a clip for every member signing up to these other survey sites. 
Additionally, when you register with Survey Money Machines you should also receive an Email course that runs for seven days. This course is supposed to equip you with the necessary skills to earn more money while registering to more survey sites. (although feedback I've heard is pretty average on the quality of this course – pretty much just telling you in various ways that "you should sign up with the sites I recommend")
As mentioned, since the owner is affiliated with the companies, she stands to benefit whenever you sign up to these surveys. But that's business, and I have no problem with that in itself. Keep in mind that for each survey you complete, you only earn Points (points – not CASH). You need to reach a certain number of point to qualify to redeem them in cash. 
Below are a few of the surveys you have access to complete:
Phone Surveys
Get paid taking surveys
Get paid for phone surveys
Get paid to try new products and keep them
Free sweepstakes
Get paid as a mystery shopper
Work from home opportunities (varying pay)
Article writing
Eventually you can get to a position to make some money from performing the above tasks. Below are some of the pros and cons that you should keep in mind.
Fast Forward to My #1 Recommended Way To Make Money Online
Pros
Anyone can join, regardless of his or her skill set
Easy to join
The instructions given are straightforward and easy
A good number of the survey sites are legitimate
It's free
Cons
Some companies require that you meet a particular threshold before they can pay you
Some survey sites are not legitimate
You are rewarded with points and not cash
The surveys are time-consuming
The sign-up process involves answering some personal questions, including your area of residence.
The 7- day email course just recommends sites to which one can register for. The owner, Hailey, stands to benefit from this. Low quality learning content.
Only accessible to people in Canada, UK, Australia and US
Some of the information provided is misleading and false: For instance, the owner promises that you'll be earning cash when instead, you'll be earning points.
You will not be able to make a living out of this; we are talking pocket money here
Who Is It For?
This platform is only suitable for those that want to make a little pocket money. Also, if you do not mind spending a lot of time filling out surveys, go for it.
Yet, I would not recommend it. You can easily get paid surveys directly on websites that belong to market research companies. I've reviewed other survey programs also, and it's the same with them though – there's simply not a lot of money in this game. 
Price
It is free to join. This fact alone helps draw people into joining the program.
Support
Given the fact that you receive a 7- day Email course, the training is not completely lacking. However, this is the only type of support that one gets. If you have issues with one of the surveys are doing, you need to ask for help with the site your survey is on.
Summary
Survey Money Machines is not a scam; it's just a third party site that directs you to survey sites. Some of the sites they direct you to are legit. Additionally, you do stand a chance of earning some cash, even if it means that you'll have to reach a certain threshold of point to be able to redeem it.
However, they do offer some misleading information which is a major red flag. Also, the time spent completing the surveys does not match the pay at all. If you are looking to make substantial money online, this is not for you. And just so we're clear here – I DO NOT RECOMMEND IT. Simply not worth the time and effort. 
How I Make Money Online
If you want to learn the online business world, and how to make money online without the smarts of a brain surgeon – then continue reading for just a little bit longer. The business model I can recommend to anyone wanting to make a living online, is affiliate marketing. And my #1 recommendation is Wealthy Affiliate. This very website is 100% a result of my efforts learned at Wealthy Affiliate. 
I stumbled across Wealthy Affiliate more than 5 years ago now, and have been making a recurring revenue from this very website for just under 5 years. Of course I'm recommending it, of course I am – but it's honestly the most supportive working environment I have ever come across! Not to mention that you get step by step training on everything from choosing a niche, creating your very own website FOR FREE, and much much more…I could go on, but how about you instead read my review here or check out more details on how you, too, can get started. 
If you have any questions or thoughts regarding Survey Money Machines, or Wealthy Affiliate, or anything else, please do not hesitate to leave me a comment below. I'll most certainly get back to you
Have a super day!
cheers,
Karina