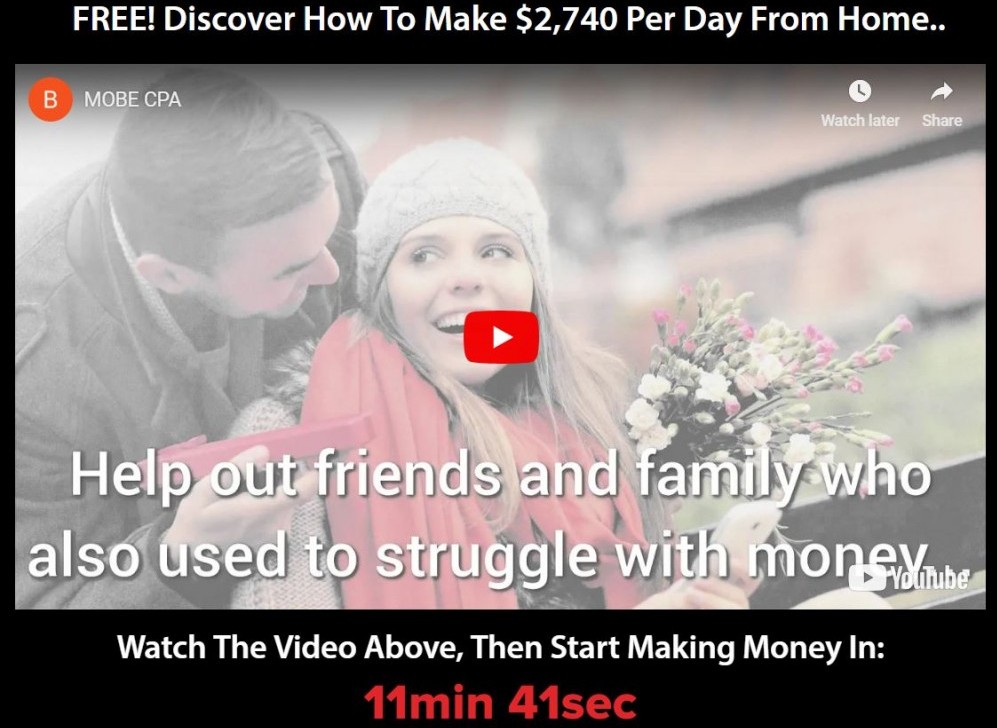 Product name: My Millionaire Website
Website:www.mymillionairewebsite.com
Owner: Matt Lloyd
Cost: 49$ to join + UPSELLS
Overall score: 1/10 (NOT Recommended!)
Introduction
This is my honest review of My Millionaire Website, and it's not pretty. It's a MOBE scam review. There, I said it. 😉 Founded in April 2017, My Millionaire Website has obviously grown in popularity from the hype that surrounds it. One question remains: Is this a legitimate site?
What is My Millionaire Website?
Here's the thing; My Millionaire Website is not actually an affiliate program. It's not a program at all. It's simply a front page teaser and marketing front for My Online Business Education. Aka My Online Business Empire. Aka MOBE. You see, I wasn't aware of this until after I've watched they gag-worthy promo video, and it surprised me as I've actually done a complete review on MOBE a couple of years ago. Please read it here. I always get quite appalled by the marketing videos some of these scams publish, and this is no different. Promised to riches in no time, and WARNINGS that the offers will be taken off you unless you act within minutes. So tasteless.
How Does It Work?
So, how does MOBE system work? After purchasing the system, all you have to do is refer others to it. However, you can only earn a commission if others purchase products from the website.
Hence, your ability to earn solely depends on the performance of others. Essentially, since your earnings depend on your ability to recruit others, it works like any other MLM program or system. The ones on top always wins. Not fair.
To purchase the system, you will have to pay $49. However, that's not all. Their deals come with other packages that cost even more than the initial cost.
For instance, they have gold, titanium, platinum and silver packages just to mention a few. To access the Gold package, you'll have to pay $4,997 initially, and $512 annually. If you prefer the platinum package, you'll have to part with $16,667 as the initial cost and $1,584 annually.
Notably, to even be eligible to earn a commission, you have to purchase one of the above-mentioned packages. In other words, you'll be spending more than just $49. Also, the more expensive a package, the higher your potential to earn a higher commission.
Below are some of the advantages and disadvantages that you should consider before handing over your money to this mob(e).
Pros
Cons
It is expensive: Costs more than just $49
Earning potential is low
It's a high-risk system to get involved with
Promises a money- back guarantee of $500. However, you are only eligible for this money- back guarantee if you follow their instructions step by step. This includes purchasing one of their expensive packages.
Lack of transparency
Provision of false and misleading information: For instance, they state that the system works on autopilot, yet, it does not.
The identity of the owner/spokesman remains unknown
Who Is It For?
This system is good for those willing to gain some digital marketing knowledge. However, you can easily get this type of information elsewhere for cheaper or free. I would not recommend it to anyone.
Support
Their support system comes in the form of your very own mentor. The mentor will give you step to step advice on what to do to start earning money. In this sense, the support system is good.
However, the mentor will also be pushing you into purchasing more packages and products. This can be very annoying and costly.
Price
The initial cost to purchase the system will cost $49. However, you will have to spend more than just that to even earn any commission. Essentially, it is a very expensive investment.
As mentioned above, there are gold, titanium, platinum and silver packages ++. To access the Gold package, you'll have to pay $4,997 initially, and $512 annually. If you prefer the platinum package, you'll have to part with $16,667 as the initial cost and $1,584 annually. Crazy expensive!
Summary
MOBE is a SCAM in the sense that they do not provide true information. I would stay far away from any place that claim you can start making money instantly, and puts out WARNINGS in their promo videos. as the screen shot below.
You'll have to invest an incredible amount of money before you can even start receiving any commission. What they preach in the promo video on mymillionairewebsite.com is incorrect and false. Don't buy into it, please.

There are legit options out there!
Please rest assured that there are legit options out there; ones that are FREE and that will guide you through the ins and out of online business without wanting anything in return. The affiliate program I am a member of is fantastic, and my #1 recommendation for anyone wanting to learn how to make money online. I didn't know anything about SEO and WordPress and keywords before joining Wealthy Affiliate more than 5 years ago. This very website would have been nothing but a vague idea without them. With more than 1.4 million members across 193 countries, you should feel at easy that this is not a place where people want to take your money. It's honestly the most supportive work environment I have ever come across in my career. If you wish, feel free to check how you can get started for free – or even check out other Recommended Programs (yes, there are more than 1 legit operator out there:)
And of course, if you have any questions or thoughts regarding My Millionaire Website (aka MOBE), or Wealthy Affiliate, or anything else, please do not hesitate to leave me a comment below. I'll most certainly get back to you
Have a super day!
cheers,
Karina